Based on the books by S.King (1-4). Please, unser the cut for the songs + archive. Comments and love.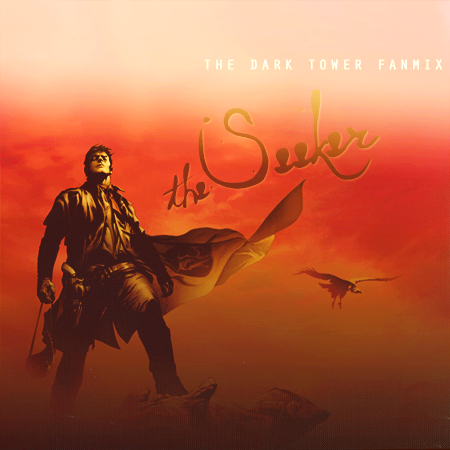 01 The Who - The Seeker
[Roland's theme]
They call me The Seeker
I've been searching low and high
I won't get to get what I'm after
Till the day I die

Focusing on nowhere
Investigating miles
I'm a seeker
I'm a really desperate man
02 Arcade Fire - Suburban War
With my old friends it was so different then
Before your war against the suburbs began
But you started a war that we can't win
They keep erasing all the streets we grew up in
Now the music divides us into tribes
You choose your side, I'll choose my side
03 Alice Cooper - Cleansed by fire
You offer me the world and all its wealth
All for myself
You promised me a life eternally
And drink to my health
I may seem only half-glued
But I can see right through you
04 Heather Nova - Paper Cup
[Roland and Susan theme]
Wishful thinking I might be yours
Drifting on every step
I'm always drawn to the dark horse
Sweet sweet nothing's said
And every dream is just a dream after all
And everything stands so still when you dance
Everything spins so fast
And the night's in a paper cup
When you want it to last
05 Muse - Showbiz
Controlling my feelings far too long
Controlling my feelings far too long
Forcing our darkest souls to unfold
Forcing our darkest souls to unfold
And pushing us into self destruction
And pushing us into self destruction
06 Sting - Englishman in New York
If, "Manners maketh man" as someone said
Then he's the hero of the day
It takes a man to suffer ignorance and smile
Be yourself no matter what they say
I'm an alien I'm a legal alien
I'm an Englishman in New York
07 Foo Fighters - The Pretender
Send in your skeletons
Sing as their bones go marching in... again
The need you buried deep
The secrets that you keep are ever ready
Are you ready?
08 Calexico with Iron and Wine - He Lays In The Reins
One more kiss tonight from some tall stable girl
She's like grace from the earth
When you're all tuckered out and tame
One more tired thing the gray moon on the rise
When your want from the day
Makes you to curse in your sleep at night
09 Kate Bush - Running Up That Hill (A Deal With God)
And if I only could,
I'd make a deal with God,
And I'd get him to swap our places,
Be running up that road,
Be running up that hill,
Be running up that building.
10 Sarah Mc Lachlan - World On Fire
I watch the heavens but I find no calling
Something I can do to change what's coming
Stay close to me while the sky is falling
Don't wanna be left alone, don't wanna be alone
11 Robbie Williams - Road to Mandalay
[Eddie's theme]
There's nothing left for you to give
The truth is all that you're left with
Twenty paces then at dawn
We will die and be reborn

I like to sleep beneath the trees
Have the universe at one with me
Look down the barrel of a gun
And feel the Moon replace the Sun
12 Sam Israel - Somewhere Over The Rainbow
[ka-tet theme]
Someday I'll wish upon a star
And wake up where the clouds are far
Behind me
Where troubles melt like lemon drops
Away above the chimney tops
That's where you'll find me